From Grief to Joy
2013 Silver Nautilus Award Recipient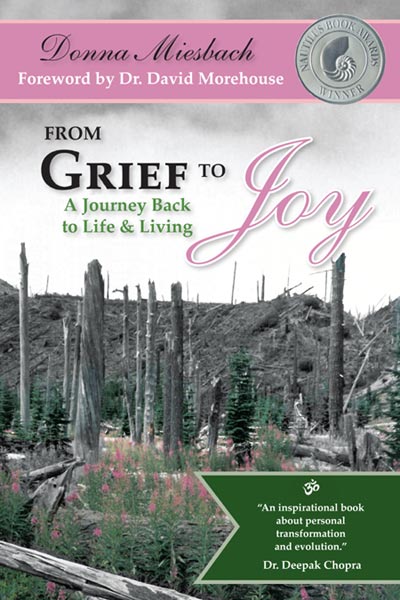 "An inspirational book about personal transformation and evolution." ~ Dr. Deepak Chopra
From the Author: One of the most miraculous experiences for me as I worked through great loss was finding out that we are loved - and accepted - so fully, so completely that there is nothing left to forgive! This is true for all of us, and that is why I'm sharing my story, because the challenges I've faced are universal. We all have our mountains to climb, both inner and outer. No one is exempt.

Life is a school, and what we learn through that school are the lessons we are ready for, things we could not really know until we lived through them. I'm talking about experiential knowledge, not just head knowledge. "They" say you don't really know something until you become it. "They" are right. And that is how I found out that relationships change, but they do not end. Physical death is definitely not the end of the story.

Our trials and tribulations are so rich with promise. It may not seem like it at the time, but they are. Nothing is ever wasted. The potential for growth - and new life - is hidden in even the most difficult of situations. Especially in the most difficult ones, because all things do indeed come bearing a gift, if we can just hang in there long enough to find it.

It helps if we can accept and embrace what is. That means being open enough to let go of judgment - of yourself, and others, and even the challenge itself. That means letting go of our expectations so we can be open to the higher plan. Surrender fits well here. Not my will, but Thine.

Eventually you find out that your life isn't just about you. It's about all of us. That means wanting for others the same things we yearn for so deeply. May we all be blessed.

It's been quite a journey. The more I've learned, the more I realize that life isn't about "things." It's about being your highest and best.
From Some of Our Readers:
"My dear friend came across your book and brought it to me. My husband died about a year ago, and she felt your writing would be very helpful. She was right. Each afternoon I'd fix myself a warm cup of tea, head to my rocking chair and open your book. I found myself appreciating so many of your thoughts, especially your openness with your feelings and vulnerabilities. Thank you for the 'warm touch' of your words." ~ Pam (from Oregon)

"Your book is a life saver for sure. Congratulations on such a wonderful accomplishment. I will share one and keep one for myself and family. You are amazing. I'm so glad I learned to meditate from you." ~ Mary (from Iowa)

"I shared your book with my mom and she immediately wanted her own copy! I am so grateful for your kindness. Thank you again for writing this book. You are a gift." ~ Linda (from Nebraska)

"I can't imagine the shock of losing your husband, mother and father within such a short time. Your personal experiences and good advice in dealing with the healing touched me. Thank you so much for sharing your story." Marilyn (from Nebraska)

"I have been devouring your book. Your words about grief, the value of stillness in our busy world, and the fact that every moment of every day we are on a journey - all are valuable. In less than a month I face the year mark of Mom's death. The timing of your book was ideal." ~ Tracy (from Nebraska)

"I got your book yesterday and immediately began reading. You are gifted with being able to express your thoughts and feelings so elegantly. What an inspiration to all!" ~ Anna (from Missouri)

"I read your book nonstop. I couldn't put it down. Now I have to go through it again, slow down, and try to absorb all these new insights and information. I feel I have already learned a lot." ~ Joanne (from Florida)

"Your newest book, "From Grief to Joy," is exactly what my family and I need at this time. Thank you!" ~ Joanie (from Nebraska)

"Thank you for creating such an outstanding tool to assist people to get through grief and to handle loss. I am so proud of you." ~ Gloria (from Nebraska)

"I am reading your book and am simply amazed at all you've accomplished. Your poems really touch me. One especially is "My Pure Repast." Almost brought me to tears. I plan to share your book with my kids and am showing it to my friends at the new age bookstore." ~ Carol (from Georgia)

"I'm reading your book and am mesmerized. It is too beautiful for words." ~ Shirley (from Nebraska)

"You are the most incredible person and writer I have ever met. You lift me up with everything you do. Thank you so much!" ~ David (from Nevada)

"Your book is truly profound. Andi also thinks it's extraordinary, since as you may know, her background is as a grief counselor. May your journey continue to be of extraordinary transformation and service." ~ Jonathan (from Colorado)

"I just finished your wonderful book. WOW, Donna! I love your writing style. The book was so thoughtfully written, very reflective. I looked forward to reading it each night. Please keep writing." ~ Joanne (from Pennsylvania)

"I've spent some midnight hours reading your book and it is a tremendous piece of work. I have a number of people I want to read it, so am ordering another one. Thanks so very much." ~ Mary (from Iowa)

"Your book has touched me in many ways. I've read it twice so far." ~ Ann (from Nebraska)

"I'm just finishing your book and starting the meditations and wanted to tell you it has really touched me. The chapter, "The Call and the Challenge," literally brought me to tears! I may go back and read that one over and over because I found it so profound. Thank you for telling about the many miracles and blessings that have touched your life." ~ Nancy (from California)

"I am halfway through your book and I think Deepak's review of it was right on target - inspirational! It is very well written, and I like the way you inserted meditations through it." ~ Carol (from Maryland)
An EXCERPT of the book is located here.
ACCOLADES about the book are located here.
To see a PREVIEW of the book, click here.
INFORMATION about Donna Miesbach is located here.
ORDER YOUR COPY TODAY at this link.
Order SIGNED COPIES copies by PayPal

Available for shipment now. To order more than 4 copies, please contact the author at dmiesbach@cox.net for S&H.
Trails of Stardust, Poems of Inspiration & Insight